15. Hulk Hogan
While some could argue that Hulk Hogan still technically dons a mullet underneath his signature do rag, nowadays he's more bald up front, party in the back. But in the early days of his career, Hogan helped popularize the mullet. And as more professional wrestlers wore their coifs in mullets, the hairstyle went from Ziggy Stardust's glam to athletic butch. Hogan became so greatly associated with the mullet that even today a plethora of Hogan-esque mullet wigs – complete with do rags – are sold online and in costume stores around the world.
14. George Clooney
Before he stole hearts across America on ER, George Clooney was the cute handyman next door on 80s phenom The Facts of Life. And while most everyone on Facts donned a mullet at one time or another, Clooney's curly coif was one of the most memorable. Clooney, however, is anything but proud of his mid-80s hairstyle. In a 2014 interview with Vanity Fair, he called his mullet-wearing days his "awkward phase."
13. Patrick Swayze
The most memorable character in 1989's Roadhouse was arguably Patrick Swayze's mullet. So glorious was Swayze's mullet, the late actor's hair could have easily played his sidekick, helping him control rowdy crowds in a rural Missouri bar. And while the mullet will forever help shape his Roadhouse persona, Swayze hated the do.
12. Ellen DeGeneres
Back in the late 80s when she was making the rounds of the stand-up circuit, Ellen DeGeneres rocked quite the glorious mullet, bobbed in back and fluffed on top. Always the comedienne, Ellen jokes about her mullet to this day, daring Michelle Obama to don the do, mocking it on Facebook and even mentioning it on her popular talk show: "What you look like on the outside is not what makes you cool, at all. I mean I had a mullet and I wore parachute pants for a long, long time, and I'm doing ok."
11. John Stamos
What Hulk Hogan's mullet did for wrestling, John Stamos' mullet did for TV heartthrobs. Even before Uncle Jessie rocked a mullet on the small screen in ABC's Full House, Stamos' Blackie Parrish held a party in the back on daytime's General Hospital. And like Hogan, Stamos wore a mullet before the style was mainstream, even before 1982 when Blackie first hit the Port Charles stage. Of course, with that glorious mane, there's nary a hairstyle Stamos couldn't pull off with flying colors. In fact, if anyone could make the mullet fashionable once again, it would be Stamos, now 50 and playing a grandfather on TV.
10. Joan Jett
The hairdo copied by lesbians around the world was donned by none other than 80s rocker Joan Jett. In fact, Jett rocks the mullet so well that the now-57-year-old wears one to this day, although her mullet has gone through several transformations throughout the years, including short, long, spiked, pieced, teased and straight-styled mullets. But Jett's mullet is no laughing matter. For the past 30-plus years, she has epitomized the cool and edgy rock-and-roll style emulated by wannabes around the world.
9. Florence Henderson
At the time it may have been called a shag, but self-proclaimed "Mother of the Mullet" Florence Henderson's early 1970's hairstyle was definitely the original 20th-century mullet. Unlike other hairdos popularized by television stars (remember "the Rachel?"), however, few tried to copy Carol Brady's coif. Apparently no one dared try and rock the early mullet like Flo.
8. Billy Ray Cyrus
His 21st-century claim to fame may be fatherhood, but Billy Ray Cyrus was wearing a mullet back when Miley was still a mere glint in his eye. Cyrus rose to fame donning a long mullet back when Miley was in diapers, pleading with the world to not tell his Achy Breaky Heart, and has since and forevermore been associated with the classic redneck mullet. So attached was Cyrus to his party in the back, he even released the 2006 tune, I Want My Mullet Back, complete with the lyric, "Things are changin' man, and that's a fact. I want my mullet back."
7. Mel Gibson
None other than Mel Gibson popularized the mullet on the big screen with his ultra-shaggy version in 1987's Lethal Weapon. Before he became the world's most famous nut job, Gibson could could have gotten rich off of Aquanet stock from the sheer amount of the sticky hairspray he must have needed to tame his incredible mane. Who knows, maybe when he finally cut all that hair, part of his brain came off with it. That Aquanet sure was some sticky stuff.
6. Brad Pitt
It might have been a mini-mullet, but Brad Pitt was definitely holding a party in the back in his Thelma and Louise pre superstardom days. But Pitt rocked a more traditional mullet even earlier, including during a guest appearance on 21 Jump Street alongside fellow heartthrob Johnny Depp (who was without mullet).
5. Nancy McKeon
One of the greatest mullets of all time was donned by none other than The Facts of Life's Nancy McKeon in her portrayal of the hard-core, bad-ass Jo Polniaczek. In her first few years on our small screen, McKeon's Jo wore a constant ponytail, but by 1986 she was hard-core mullet (not to mention the fantasy of lesbian teens around the world), complete with plenty of stiff spikes on top. It was McKeon's mullet that became the epitome of the "butch" haircut, even in the present day.
4. Mario Lopez
He might have been Saved by the Bell, but one thing Mario Lopez can't escape are the jokes about A.C. Slater's famous permed mullet, or as Lopez called it on Twitter, his "Slater mullet Jheri curl." In 2014, Lopez told BET the hairstyle was the result of trying to make the character look "more ethnic."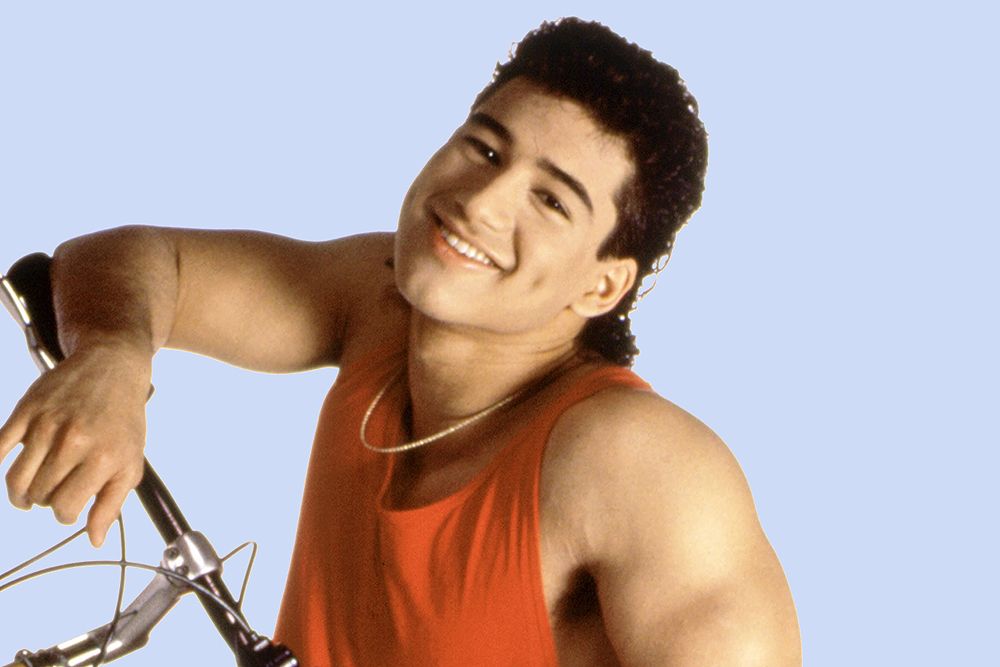 3. Paul McCartney
Ever the trend-setter, Paul McCartney wore a mullet before mullets were cool. Sir Paul began donning his world-famous mullet in the late 60s, about the time the Beatles stopped shaving. But McCartney must have really enjoyed his party in the back, because he kept the style, in one form or another, for the next 30 years. While it started as a straight mullet through the 70s, McCartney opted for a permed mullet as hair grew larger, overall, in the 80s, before he went back to a natural mullet in the 90s. Were the Beatles actually broken up by Paul's mullet? The world may never know.
2. Michael Bolton
What really lies at the end of a rainbow? It certainly might be Michael Bolton's glorious golden mullet. The easy-listening idol of middle-aged housewives everywhere may have grown his mullet to compensate for his thinning hair, or perhaps he thought bigger hair would cover up his lack of talent.
1. Nikki Sixx
The mullet reached its peak during the days of the hair band, and few rocked a mullet better than Motley Crue's Nikki Sixx. Glamorous, hard-rocking musicians of the 80s and early 90s threw a party in the back like no other, and bands such as Motley Crue, Def Leppard and Bon Jovi glorified the mullet like never before, thanks to plenty of perms, mousse, picks, spray and other styling products. And as the mullets got bigger, so did their popularity. Soon the mullet was everywhere, from rock and country music to television and movies to college and kindergarten.