10. Chuck Norris is Actually Named Carlos Ray Norris
The world knows him as "Chuck Norris" but his real name is Carlos Ray Norris, a name that is still fitting for the badass character we have all come to love and appreciate. Chuck is just a name that he acquired during the years he spent as an Air Policeman with the United States Air Force. Mr. Norris is half Irish and half Cherokee Indian, an Indian tribe that people revere because it has produced some of the best native warriors that America has ever seen. His bloodline must have had something to do with his becoming an outstanding Air Policeman as well as the expert fighter we see on TV.
9. Chuck Norris Was AÂ Shy Student
Unbelievably, Chuck Norris was at one time a very shy boy, who you would not expect to rise to become the confident and well-known celebrity we know today. In addition to being shy, Norris described his school days as "scholastically mediocre," meaning that he was not one of the top students in class, but that did not prevent him from going so far as to author his own books. Just before you conclude that all he was good at in school must have been sports, then you are in for a rude shock. Norris was not athletic even in high school, yet people with fighting skills anywhere near the levels he reached normally start very early and tend to be very athletic, especially in high school.
8. Chuck Norris Served His Country Diligently
Chuck Norris was in the United States Air Force even before becoming a martial arts expert. Norris served his country in the capacity of an Air Policeman, and during his service, he was stationed in South Korea. The above means that Norris was first an officer, then a martial artist, and then an actor. This explains why in almost all of his movies Norris acts as an extremely dangerous law enforcement officer, who never uses his gun unless he has to, because his kicks and blows are just as deadly. Furthermore, Norris was given the title of an honorary Marine as well as a Texas Ranger; the latter must have given him an additional sense of authority to his role in the long-running TV program Walker Texas Ranger.
7. Chuck Norris Had His Own Line of Jeans
In the same way that celebrities today have their own clothing lines and perfumes, Chuck Norris had his own line of jeans called "Action Jeans"; jeans that people could actually wear and feel comfortable in. What made these jeans different from what we have in the market today is their ability to accommodate vigorous movements including Chuck Norris' roundhouse kick. People who bought these jeans must have felt invincible like Chuck Norris himself. The problem that these jeans solved was the ease of tearing that most jeans have, especially in the crouch area, and if there was a pair good enough for Chuck Norris then that was a pair good enough for everyone out there.
6. Chuck Norris is an Author
It's hard to imagine just how an expert martial artist can have the patience and the drive to write a book, but Chuck Norris is not your average martial artists. Norris is a New York Times Best Selling author with a number of books to his name, and most of the books are Christian-based. Norris also writes a column for the WorldNetDaily, a politically conservative American Website, where he gets to share his Christian beliefs and speak out against injustices in society. From his writings and lifestyle, it is evident that Norris is a devout Christian, another aspect about him that is just fascinating. His lifestyle and line of work prove that a Christian is not all about turning the other cheek, especially where there is social injustice.
5. Chuck Norris Dedicated One of his Movies to his Late Brother
Hollywood has produced numerous war movies over the years, with a good percentage of those movies based on the war in Vietnam. Chuck Norris has been part of a few such movies, but Norris dedicated the film Missing in Action to his brother, who was killed in action in 1970 while serving in Vietnam. The above movie and several others after that show how Norris goes back to Vietnam to rescue formerly captured, imprisoned, and even forgotten American soldiers or civilians, who had no chance of going back home. Missing in Action is, therefore, one movie that Chuck Norris has a special attachment to.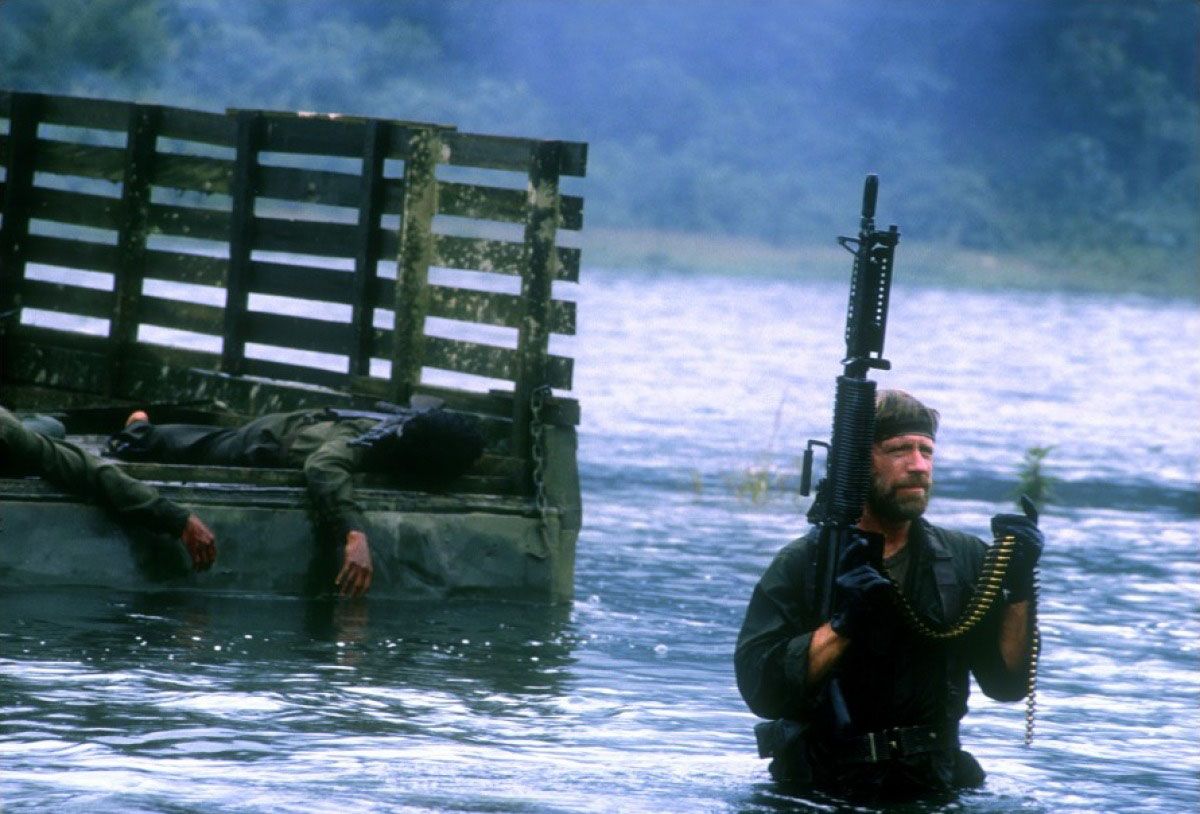 4. Chuck Norris is a Powerboat Rider and Enthusiast
In addition to all the amazing things that Chuck Norris has done in his lifetime, one victory that he is proud of is the Powerboat Grand Prix competition he won with his team in 1990 at the Ultra Slim-Fast New York Offshore Grand Prix. Chuck Norris was piloting a Cougar Catamaran when he won the title, a 50-foot powerboat that endured to the end of the race. Norris was averaging 81.2 miles per hour; a good speed considering it was over two decades ago. Norris participated in many other competitions, but his main drive when it came to racing powerboats, was the thrill and excitement he had.
3. Chuck Norris Taught "The King of Cool" How to Fight
Before Chuck Norris made his way to the big screen, he was teaching people how to fight. One of his most significant students was Steve McQueen, the actor that the whole world came to know as "The King of Cool". It is from this interaction with Mr. McQueen that Norris decided to get into acting. Donny Osmond was also one of Norris' students, but their interaction did not push him to musicals. Chuck Norris also taught many famous people such as Bob Barker and Priscilla Presley how to fight in his chain of Karate schools. Chuck Norris became good friends with Bruce Lee and he even got an opportunity to act in the same film with Lee, as his nemesis in the movie Return of the Dragon.
2. Chuck Norris Wins Every Fight
Chuck Norris participated in numerous karate events, of which he won at least 30. Throughout his time as a martial arts fighter from 1964 to 1974, chuck Norris' record stood at 183 wins, 10 losses, and 2 draws, a record that sets him apart as one of the all-time greats in the sport. Furthermore, Norris held the World Professional Middleweight championship title for six straight years, defending it every year and in the process defeating legends such as Joe Lewis, Allen Steen, Louis Delgado, and Arnold Urquidez. Norris was the first holder of the 8th Degree Black Belt Grand Master rank from the West in Taekwondo and also has black belts in Brazilian Ju-Jitsu, Tang Soo Do, and Judo.
1. Chuck Norris Created his Own Martial Art
After learning most of the popular martial arts out there and becoming unbeatable in all of them, Norris must have been bored to bits, so he decided to challenge himself to come up with his own. The pride of every teacher is to see his or her student excel in the field that he or she is teaching, but you have to wonder how a teacher would feel if a student who turned professional created his or her own discipline. Chuck Norris' martial art is called "Chun Kuk Do", which can be translated to mean "Universal Way". Because of his achievements in martial arts, in 1999 Norris was inaugurated into the Martial Arts History Museum's Hall of Fame, and was honored with a Golden Lifetime Achievement Award a year later by the World Karate Union Hall of Fame.