20. Julianne Hough – Crazy Eyes
Wrong on so many levels, this was Julianne Hough's tasteless Halloween costume one year. She donned some blackface, put her hair into some weird twisted knots, and got dressed up in an orange jumpsuit. The result? Her version of an Orange is the New Black Halloween costume. For the rest of us? A stupid/bad choice for a costume. She attended the Casamigos Tequila Halloween bash in 2013. Juilanne was supposed to be one of the characters from the hit television show, Crazy Eyes. Well, she was definitely looking crazy. Could she not have chosen something else? Maybe something more…appropriate?
19. Kristin Stewart – Some Plastic Mask
Kristin Stewart already has a strange resting face, so why not play that up a bit for Halloween? That is exactly what she did, although the result was just creepy and not really effective as a good Halloween costume. She donned a plastic face mask with her Twilight costar Robert Pattinson. The two of them were not even dressed up though. All they did was wear the plastic faces and normal clothes. It was strange and less than half-effort. They were supposed to be wearing matching couple costumes, but there were a couple of problems. One: they were not wearing costumes. Two: they were not matching. Duh.
18. Christina Aguilera – We're Not Sure
This was a Halloween costume that we are not really sure about. Christina Aguilera was definitely dressed up, but we do not really know what she was supposed to be dressed up as. She was wearing a bright pink afro wig, a white crown, a black leotard, and black knee-length boots. Oh, and fishnets. So if you can tell us what she was supposed to be dressed up as, then kudos to you! Because we have no flipping idea. She dressed as this in 2012 while attending a Halloween party with her husband, Matt Rutler. He was dressed as some kind of medieval knight.
17. Leonardo DiCaprio – Grim Reaper
Leo DiCaprio: handsome, dapper, Grim Reaper? Apparently! He dressed as the scary figure for a Halloween bash in Los Angeles in 2013. Well, he was actually just wearing a long black cloak that only showed his hands. He should've had some gloves and a weapon. Oh well. For his part, it was a nice way to be disguised as he went out in public. On the other hand, it was a rather sad attempt at a Halloween costume that could have been pretty darn cool. Hopefully he did not scare anyone too much at the Halloween party. And hopefully he was able to see through that thing! It was completely covering his face!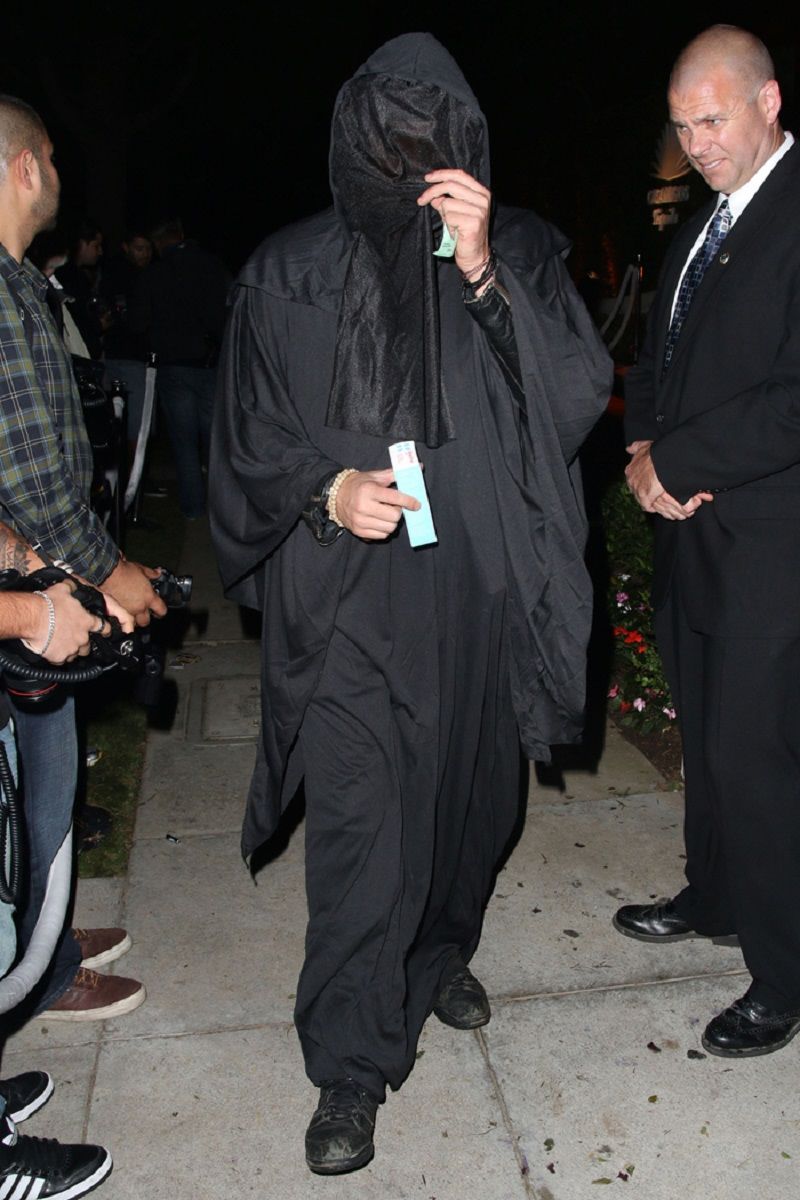 16. Chris Brown – Taliban Member
Perhaps the WORST costume ever, Chris Brown! How could you be so foolish to dress up as a member of the Taliban? Not only tasteless and offensive, but downright dangerous. There is so much turmoil between the United States and the Middle East, so why on earth would you dress up as one of these hated members of a terrorist group? We honestly cannot for the life of us understand this. Chris is already a violent guy, and he went all out in this offensive get-up. He had a string of bullets, a (fake) gun, a long dark beard, and the head scarf and uniform. Plus he went to a Halloween party that was hosted by Rihanna. So, so wrong.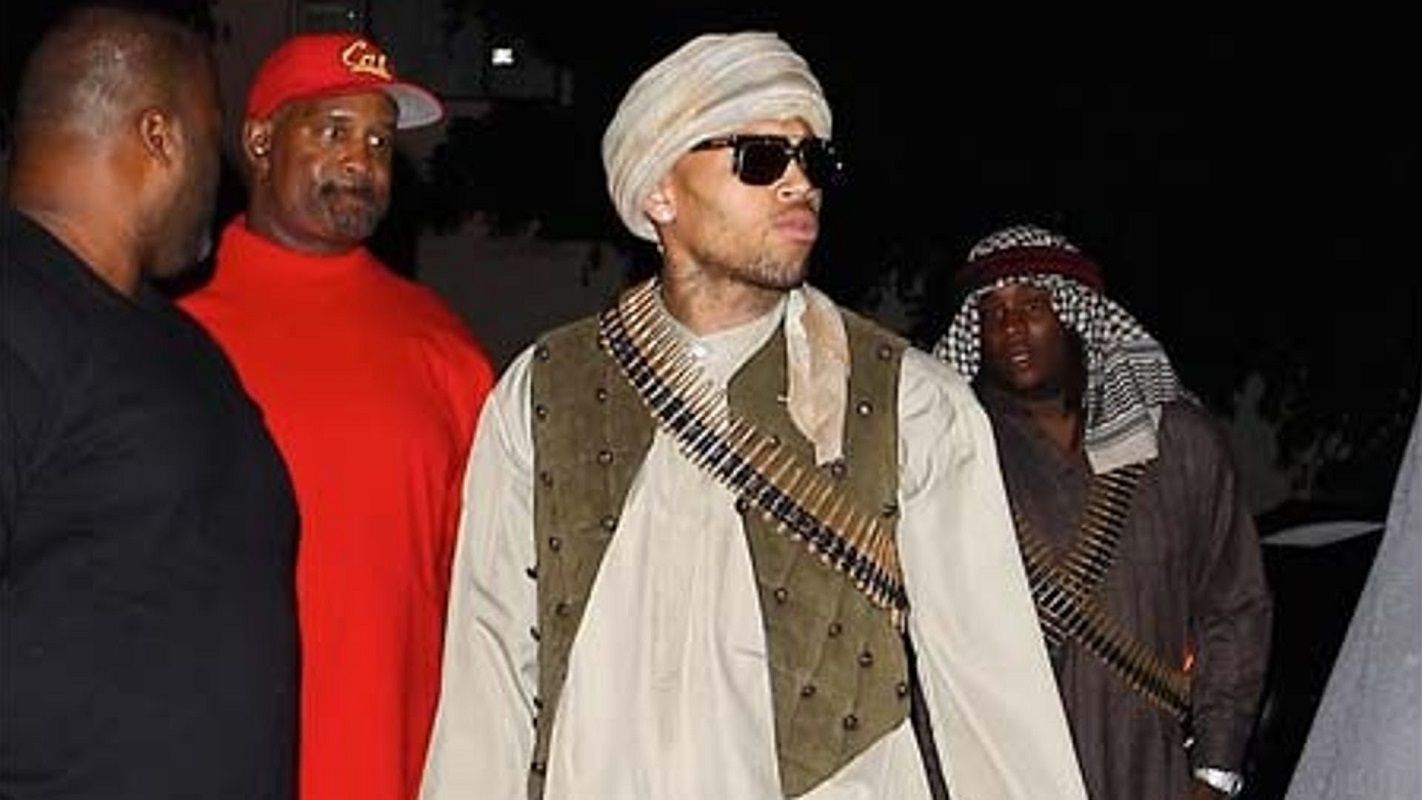 15. Lauren Conrad –Â Tooth Fairy
Lauren Conrad has done a complete turnaround. She was at first a stuck-up beauty-pageant wannabe on the MTV "reality" show, The Hills. But now she is a fashion contributor for blogs and magazines and she has even added the title of Author to her ever-growing resume. So, since LC is super a fashionable young gal, what was she going dressed up as a jacked-up Tooth Fairy? She looked more like an unkempt pile of tulle fabric. Did she just raid the fabric store a couple of minutes before hitting the Halloween party? This was messed up! Sorry, but her sewing skills were lacking.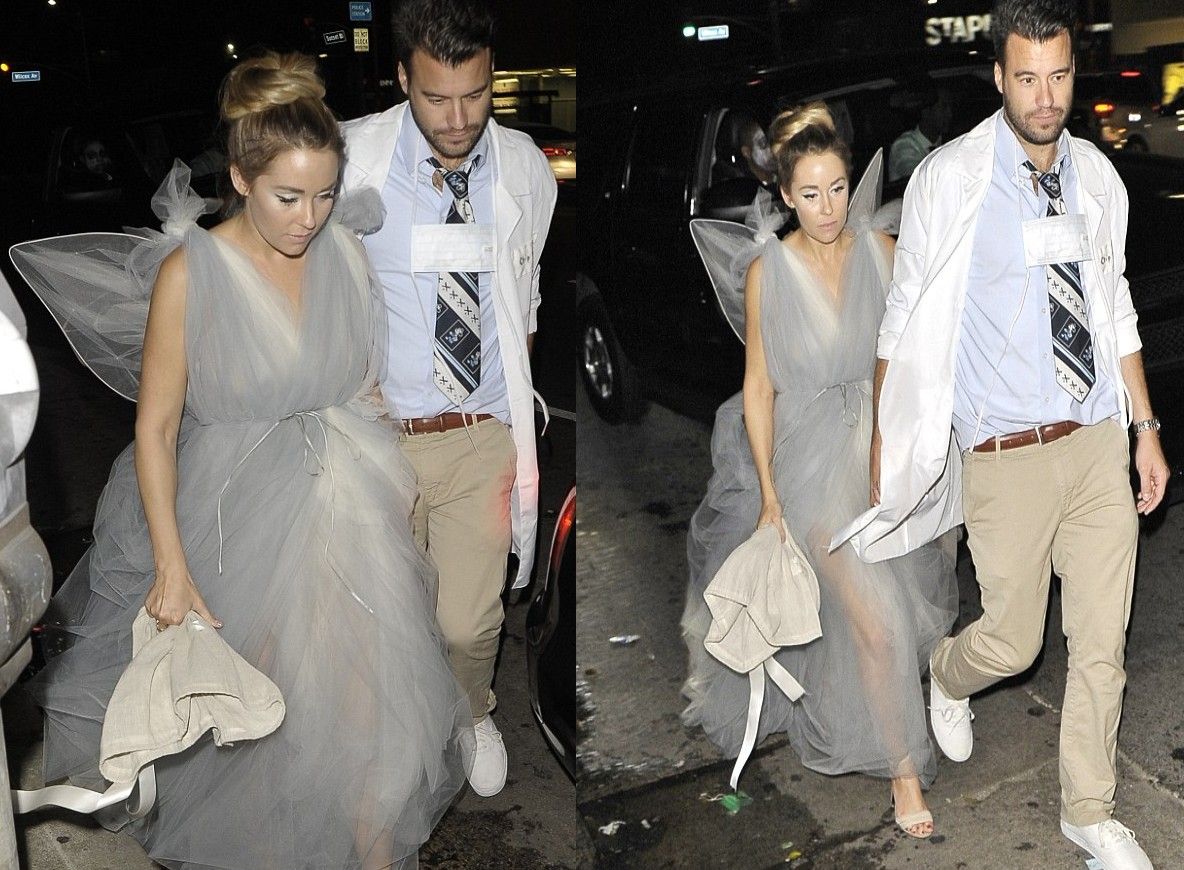 14. Heidi Klum – Lady Godiva
What in the heck? We thought that Heidi Klum was supposed to know a thing or two about fashion and style. So what in the world was she thinking when she decided to don a Lady Godiva Halloween costume?! Not only that, but she was riding atop a horse as well. We sure hope it wasn't hurt in the whole Halloween spectacle! Sure, this was 2001, so maybe Heidi can live it down now, but still…this was bizarre, especially for a German supermodel star! At least she was fully dressed, but the ratty blonde wig and bloody face paint was tasteless.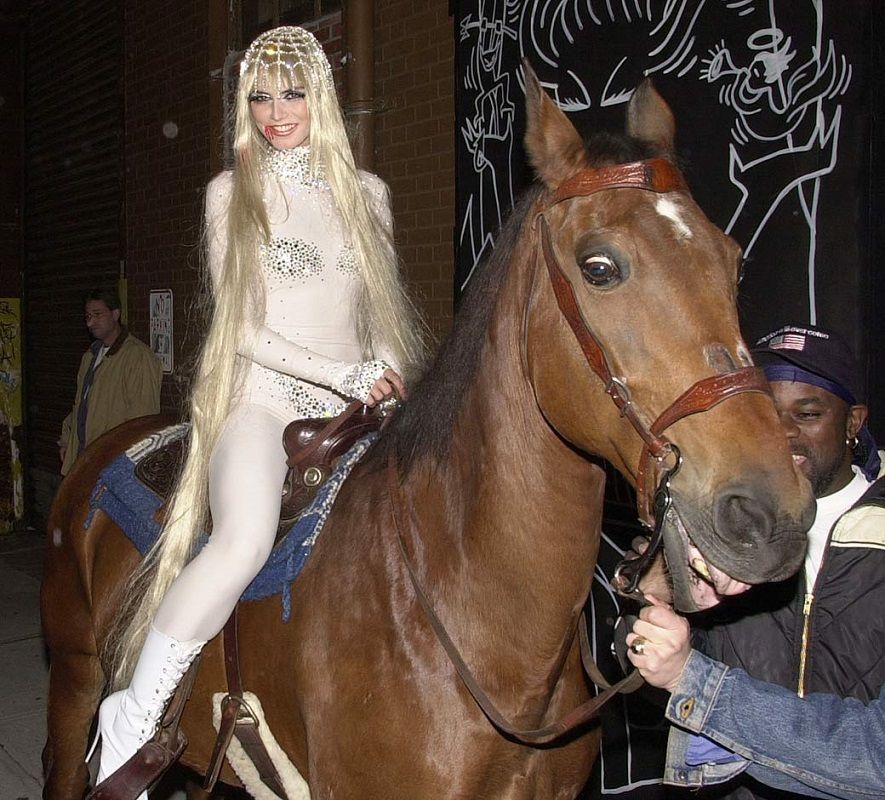 13. Ashley Tisdale – Batgirl
It was a classic case of a former Disney star trying to break out and be sexy. Unfortunately, it just looked weird. Ashley Tisdale decided to dress up as a female version of the iconic superhero Batman a few years back. Well, first of all, if you are going to dress up as a superhero as famous as Batman, then you better do a bang-up job. Secondly, just because you are female does not mean that you have to be trashy about it. Ashley decided to go out in a corset-style costume that showed off full leg. Plus the outfit had neon green trim, which we are having trouble relating to Batman.
12. Aziz Ansari –Â Thomas the Tank Engine
It was perhaps a comedic twist of events and a play on words. Comedian Aziz Ansari is widely known for his funny work on the hit television series Parks and Recreation. Around Halloween time he was getting ready to kick off a new comedy tour aptly called Buried Alive. So when he arrived in New York City at the Comedy Cellar, he decided to encapsulate everything in his clothing. He dressed up as Thomas the Tank Engine. Yup. Okay, okay, so Aziz is a funny dude, we get that. But dressing up as a children's cartoon (and a creepy one at that?) We were bound to have nightmares for a while.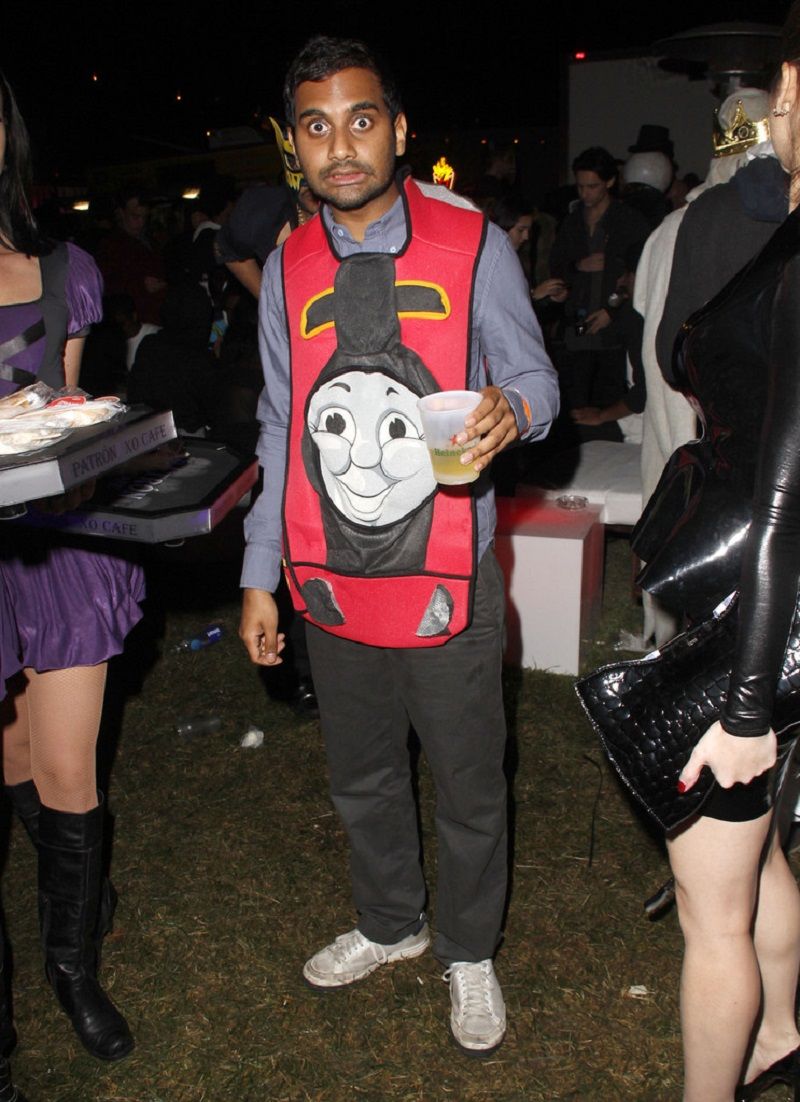 11. Cher – Zombie?
Hey, Cher is getting up there in age, but is that an excuse to have an outrageously lazy and half-effort Halloween costume? This is the one night of the year where you can go all-out and just don something crazy. So it is go big or go home. When the ageing singer decided to dress up for the big night one year, she chose a zombie costume. Or at least we think it was a zombie costume. She supposedly got ready in just twenty minutes, and it showed! Her hair was a mess, she smeared some lipstick on her face, and she wore a ratty-looking dress thing. This was just not working at all, even if she was supposed to be half-dead.
10. Alexa Vega – Weird Go-Go Dancer
Who remembers when Alexa Vega was starring in the Spy Kids movie series? We do! She was cool back then and she is still pretty awesome now. Although when she showed up in a weird exotic go-go dancer, we did not know what to think. Actually, we still are not sure of what Alexa was supposed to be dressed up as. She was wearing tons of neon colors, as well as a neon wig cut into a bob. With a teeny tiny tank top, she was baring her midriff and then had some strange mini-skirt on. This was all-around confusing!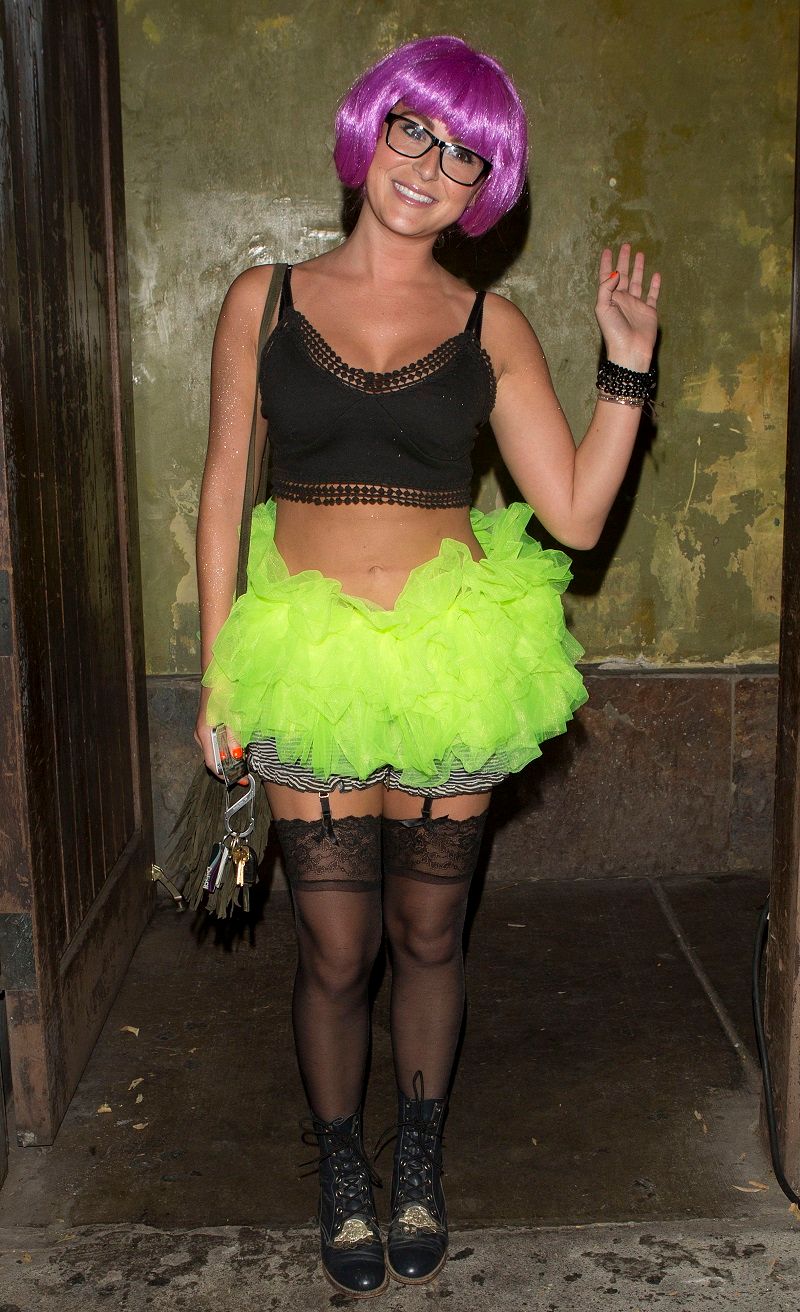 9. Stephen Dorff –Â Native American
Okay Stephen Dorff, offensive much? Dressing up as a Native American, even if it is for Halloween, is just plain rude. And politically incorrect. And tasteless. On a side note, this barely even counts as a Halloween costume. First of all, he was simply wearing a Native American headdress. It was not even complete! He then just threw on a white T-shirt and some black jeans and called it a day. So not only was Stephen's outfit offensive, but it also received an 'F' for effort. Maybe he will try a bit harder next time. Or at least wear an actual costume; one that will not offend other people.
8. Vanessa Hudgens
What was Vanessa Hudgens thinking when she dressed up as an angel for Halloween a few years ago? Let us analyze the situation a bit: Okay, so Vanessa is a heavenly-looking girl. She is a young woman who is beautiful and she has a pretty nice voice as well. And a lot of us remember her from her days as Gabriella is the hit Disney Channel movie High School Musical (and its sequel…and its third installment.) During those movies she played a sweet, loveable math geek. Who just happened to be super attractive. So maybe she was going back to her sweet-as-pie Disney days. Either way, this was just too juvenile.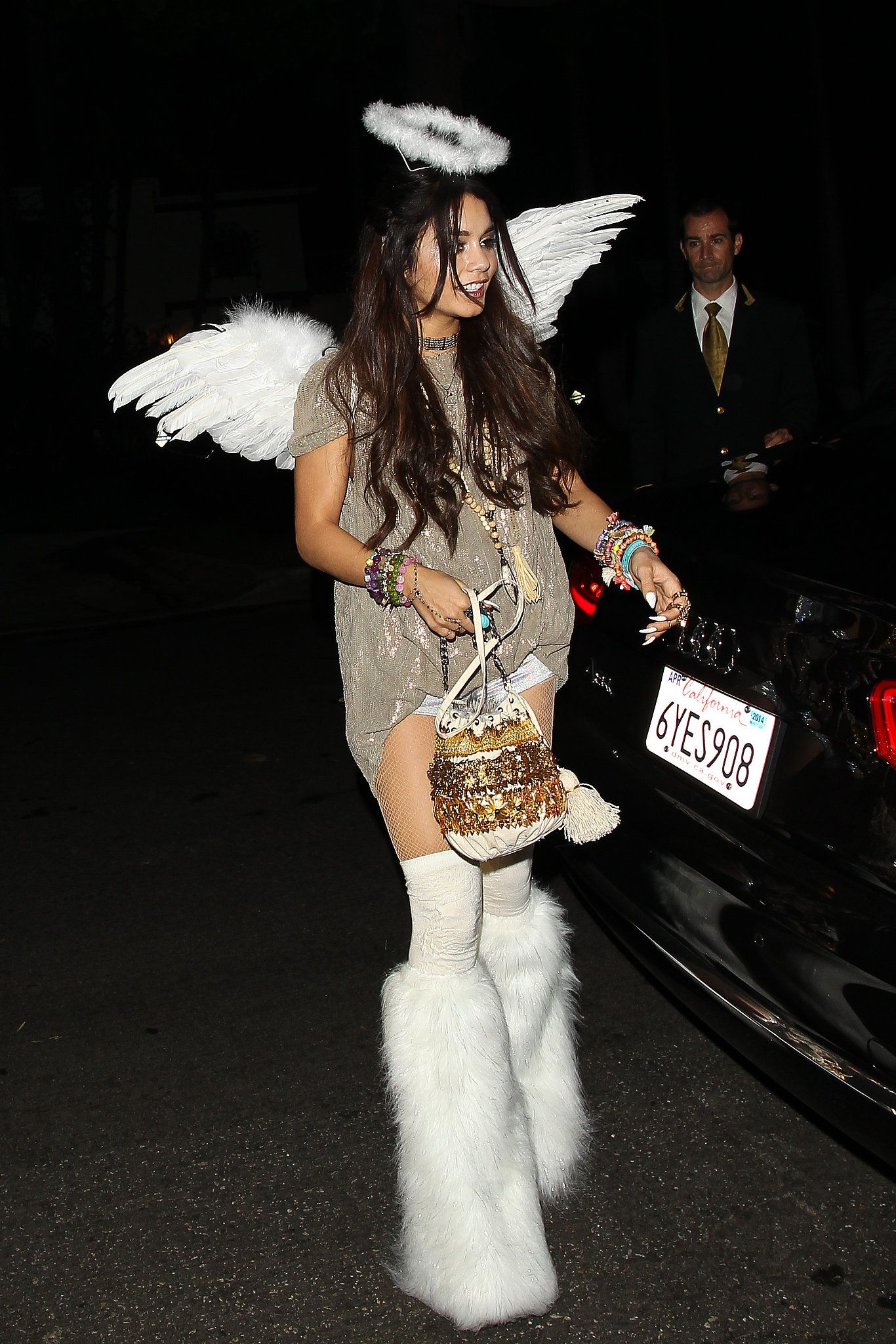 7. Christina Milian –Â Camouflage
When Christina Milian came to a Halloween party dressed as someone from the Armed Forces, it was sort of a slap in the face to those who actually do serve in the Armed Forces. She was wearing a tight full-body suit that was decked out in camo. She was attending the Third Annual Midori Green Halloween Party in West Hollywood. Wow, what a place to wear a strange get-up. Sure, it's Halloween, a time to be weird and crazy and to go all-out. Yet this was really strange! From top to bottom she was covered even over her fingertips.
6. Kristin Chenoweth – SWAT Team Member
So, we all know that people liked to wear camo-print back in the day. Hey, we may have even donned some camouflage or army fatigues in our past. But when Kristin Chenoweth appeared at a Halloween party dressed as a member of the SWAT team, we were just downright confused. What a weird ensemble, especially when it was paired with the Storm Trooper get-up that her party mate, Chris Colfer was sporting. Everyone at that party must have been pretty dumbfounded. Kristin was wearing a faux-bullet-proof vest, a cap, and the camo, of course. She paired it with boots and curled blonde hair.
5. Chelsea Handler – Pregnant Woman
In 2013, the world witnessed Chelsea Handler bring her twisted wit and crass humor to a Halloween costume. She dressed up as a pregnant woman. Yes, that is correct. She was attending the Halloween party hosted by Kate Hudson and decided to be something "scary," so she became a pregnant Chelsea Handler. No, not for real; she stuffed her clothes with fluffy stuff. Hey, we would actually question her parenting skills as well, so this may very well be a frightening costume! She wore a pastel pink frock and black knee socks. Yeah, that is scary by itself without the fluff!
4. La Toya Jackson – We're Not Sure
When we saw this La Toya Jackson get-up, we were not sure what to think. What was she dressed as anyway? A blob? The Abominable Snowman? The Cat in the Hat? What was going on here? She actually had another weird Halloween, when she showed up in a costume that was creative, but just as strange. To her benefit, she decided to serve up milkshakes for her adoring and confused fans at a Millions of Milkshakes event. She also signed autographs and posed for pictures. La Toya was found at a frozen yogurt shop, making this an all-around weird occasion, perfect for Halloween.
3. Bethenny Frankel – Hello Kitty Fan Girl
What on earth was Bethenny Frankel thinking when she dressed like a Hello Kitty fan girl? This was just so wrong on so many levels. She definitely looked like a desperate housewife, even though she was previously starring on The Real Housewives television series. Sure, Bethenny is a pint-sized woman, but that does not mean that she gets to dress up in little girl costumes. Really, that is scary in and of itself. We do not even need to mention the fact that she looked like she was a mixture of Rainbow Brite and a little anime girl from Tokyo, Japan.
2. Miranda Lambert – Honey Boo Boo
Maybe Singer Miranda Lambert is a princess on the country music scene, but when it comes to dressing up for Halloween, let the children keep the princess costumes. Miranda just looked like a fool in a fluffy pink gown. She sort of looked like a Glinda the Good Witch if she were trapped in a scene from Alice in Wonderland. Really, something just was not right here. Miranda is a beautiful woman, but she really does not need to dress up as a princess. Even if it is Halloween. Put a picture of Miranda dressed as a pink princess next to a 4-year-old and marvel at the creepy differences.
1. David Spade – Fox
What the heck was comedic actor David Spade thinking when he decided to wear a fox costume for Halloween one year? Sure, he is a jokester and a prankster, but please. The fox costume was not even tasteful. Actually, the whole spectacle was all a part of an elaborate scheme. Spade and the masses throughout the world all dressed up as foxes to recreate the super-popular Internet video "The Fox (What Does the Fox Say)". It was a video by Ylvis and featured people dressed as foxes. If you see the video, you will notice that Spade looked nothing like the fox people in the video. So we just have to shake our heads at this one.