10. Jimmy Fallon – Mahir Çayan
Jimmy Fallon, the Saturday Night Live alum and current host of The Tonight Show, isn't new to being told he resembles other people. In fact, many viewers at home tweet Fallon pictures of individuals that remind them of him. We couldn't help seeing the similarities between the funny man and the politician Mahir Çayan, who was a leading figure in the Turkish Revolution, an attempt to liberate Turkey. He was part of the political party People's Liberation Party-Front of Turkey. Çayan was killed in 1972, shot down by soldiers, two years before Fallon was born. Fallon's ancestry includes Irish, German, and Norwegian lineages, but no apparent Turkish ancestry.
9. Christina Aguilera – Ginger Rogers
Ginger Rogers was a successful actress, making many feature films between 1925-1987. She even won an Academy Award for her role in the 1940 film Kitty Foyle. Rogers died in 1995 at the age of 83. Superstar songstress Christina Aguilera has more than just looks in common with Rogers, she has starred in a few films herself; Shark Tale, Shine a Light, Get Him to the Greek, and Burlesque. They also both have a very similar style, even with so many years between them, Rogers had the same red lips and platinum blond hair that Aguilera now embraces. The two beauties also share a love of dance, and they have both been dancers from a very young age.
8. Brad Pitt – Hermann Rorschach
A-list actor Brad Pitt has starred in many biopic movies over the years, but we found the role of a lifetime for Pitt, and one he would be able to portray better than anyone else. The actor looks exactly like Hermann Rorschach, a Freudian psychiatrist and psychoanalyst who was based in Switzerland. Rorschach is responsible for being the creator of a test that examines someone's personality, basic characteristics, and emotions using a person's perception of inkblots. Rorschach died in 1922 at the age of 37. Pitt was born 41 years later in Oklahoma. They may not be related, but the similarities are striking, and we forsee an Oscar winning film in Pitt's future.
7. Jason Segel – Lee J. Cobb
Jason Segel and Lee J. Cobb might both be actors, but their acting is on different ends of the spectrum. Cobb was a dramatic actor, usually playing harsh and threatening men. He was nominated for an Academy Award for his role in the 1954 film, On the Waterfront. Segel is more of a comedic actor, starring in the sitcom How I Met Your Mother and films like Knocked Up, Forgetting Sarah Marshall, I Love You Man and The Muppets. Something Cobb and Segel do have in common with one another, is that they look eerily similar. The two hail from Jewish families, but there is surprisingly no relation, even though Cobb lived in California most of his life, where Segel was born and raised.
6. Alec Baldwin – Millard Fillmore
Actor Alec Baldwin and 13th President of the United States, Millard Fillmore, could be related. In fact, they could have been twin brothers, if they weren't born 158 years apart. Both men were born and lived in New York, both went through two divorces, have two children, and both are part of powerful families. One family being powerful in Hollywood and one being powerful in politics, although Baldwin does write about politics sometimes for the online news blog, The Huffington Post and has talked about hoping to run for office one day. We can definitely see Baldwin as a governor or a president some day, because we've seen him as one in old black and white photos.
5. Maggie Gyllenhaal – Rose Wilder Lane
Famous American writer Rose Wilder Lane, was a journalist, a novelist, and a theorist. She also helped in the founding of libertarianism in America, a movement that encouraged liberty of the individual over government regulations. Lane died in 1968 at the age of 81. But it seems as though the writer was reincarnated in 1977, when actress Maggie Gyllenhaal, sister to Jake Gyllenhall, was born in New York City. The two women look a lot alike and share many of the same qualities. Gyllenhaal studied literature at Columbia University and has campaigned for the American Civil Liberties Union, an organization whose mission statement reads, "to defend and preserve the individual rights and liberties guaranteed to every person in this country…"
4. Bruce Willis – Douglas MacArthur
Bruce Willis may be one of the biggest names in Hollywood, starring in films like Die Hard, Pulp Fiction, Armageddon, The Sixth Sense, and Sin City, among many others, but his accomplishments pale in comparison to what his look-alike Douglas MacArthur has done. MacArthur was General of the U.S. Army, and a Field Marshal of the Philippine Army. He is one of the most respectable and praiseworthy soldiers to every serve in World War I, World War II, the Occupation of Japan, and the Korean War. MacArthur has received in Medal of Honor, the Order of the Crown, the Honorary Knight Grand Cross and the Order of the Rising Sun. And we thought Bruce Willis was cool.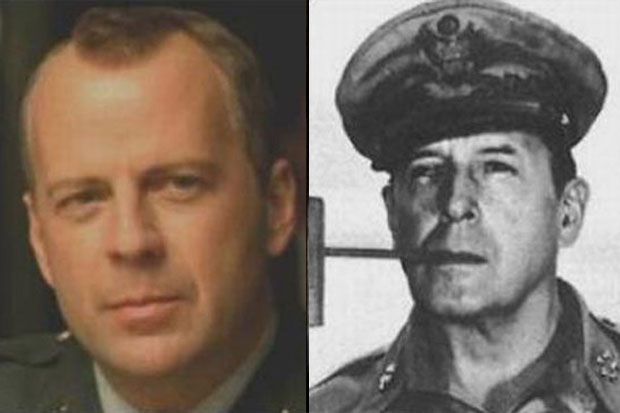 3. Queen Latifah – Zora Neale Hurston
Zora Neale Hurston was an author, an anthropologist, and studied folkloric culture. Her novel Their Eyes Were Watching God is considered by TIME magazine to be one of the best English-language novels. Ten years after her death in 1960, Dana Elaine Owens, who we now know as Queen Latifah, was born. Queen Latifah is a household name, being a singer, actress, model, producer, talk-show host, spokeswoman, and comedienne. The two women may have completely different careers, but there's no denying that they look strikingly alike. Their matching cheekbones and mega-watt smiles could allow them to pass as mother and daughter.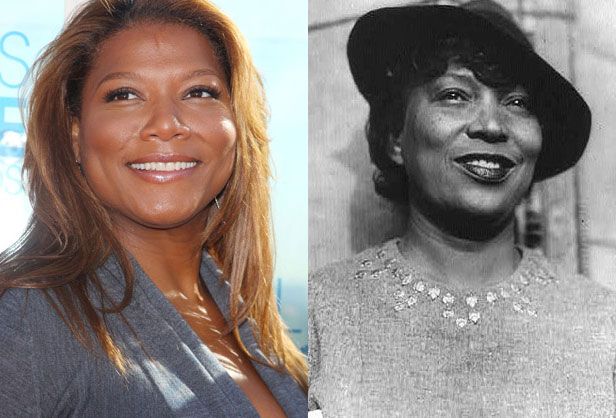 2. Jennifer Lawrence – Zubaida Tharwat
Starlet Jennifer Lawrence, star of the Hunger Games franchise, Silver Linings Playbook, and American Hustle, has been compared to Egyptian actress Zubaida Tharwat, who died in 1987, three years before Lawrence was born. Their good looks got both of these beauties noticed as teenagers, Lawrence was discovered in a mall while Tharwat won a beauty contest in a teen magazine which gained attention from famed movie directors and producers. The uncanny resemblance between the two queens of the big screen is almost freakish. A lot of people have even used the likeness in claims that movie stars are immortal. It may sound ridiculous, but after looking at pictures of the two, you can't help but wonder the same.
1. Zach Galifianakis – Louis Vuitton
Funny man Zach Galifianakis, star of the Hangover films, The Campaign, and Birdman, looks strangely similar to Louis Vuitton, the founder of the now famous and extremely popular leather goods company of the same name. It almost seems like a practical joke that Galifianakis is playing on us, like he went back in time somehow and posed for those black and white pictures. The joke was on Galifianakis though when the company sued Warner Bros. for the scene in The Hangover Part II, when the actor's character Alan is carrying a Louis Vuitton bag. Apparently the bag was a fake and the company was not pleased to see a cheap knockoff on screen. You'd think they would more forgiving with Galifianakis, seeing as how he could pass as a twin of their original founder and designer.